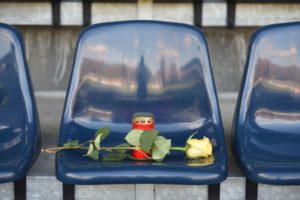 Welcome to our website "Grief meets Football".

Especially in football, the theme of mourning and death is very visible. Just think of the minute of silence, the black ribbon or the choreographies for deceased players or fans.
The motivation for this project came from Carmen's own experience that after the death of two of her children, football gave her the opportunity to recharge her batteries, to switch off and to let all her feelings run free for 90 minutes.
Since 2006 she has been collecting clippings, fanzines, football magazines, interviews, photos, essays etc. that deal with both football and mourning.
The result of Carmen's collections are recorded in a scientific paper which investigates the question of what happens when football and grief meet. What contribution can football make to the culture of mourning?
Team and focus of the project
The project was initiated in September 2018 by Carmen with support from Tobi. Tanja joined in July 2019. In 2020 David, Inga and Torsten joined the project as freelancers and since 2021 Mattes supports us with great graphic works.
We are all football fans from different cities, support different clubs, some of us are club members and season ticket holders.
Together we share the love for football, which tells so many stories of grief, of suffering, of beautiful and sad moments, of happiness, of dreams, of hope and of all that life is about and all that it involves – in good times and bad.
One focus of the project is "football as a resource" in times of grief.
In addition to the culture of mourning in football in Germany, a further focus of our project has developed, which is the football memorial culture in Great Britain.
2019 Carmen visited London to get a first insight into the English memorial culture.  Among others, she also spoke with the former Reverend of Queens Park Rangers. There it is possible to bury ashes of deceased fans behind the goal line. You can find Carmens article and some photos  in a pdf-file here. Unfortunately it is in German.
Offers of the project
We have developed several offers:  Giving lectures, consulting fans, fanclubs, clubs – grasroots and professional – (at the moment we have a cooperation with the HSV), collecting interviews, online trainings "how to deal with grieving fans and members".
We also talk in different podcasts and published articles in magazines. In autumn 2020 appeared our own fanzine "Trauer und Fußball".
We hope that with this project we can contribute something to bring the (taboo) topic of death and moruning back to life, so that it becomes more natural for us again.
Because one thing is certain: Sooner or later we will all die, but "Don't worry, there will be football in heaven too", as Uwe Seeler knows.
Press in English about us
In November 2021 Chris Law wrote in the "Libero Magazine. The Alternative Football Periodical" (Issue 2 – Culture) about grief and football "Most important of the least important things": Grief in football. He also wrote about our project and our work.
In September 2021 the journalist Nick Miller wrote in "The Athletic" an article about grief and football "It's an exclusive club that no one ever wishes to be a part of' – When football helps us grieve" . For this piece he spoke also with Carmen and she talked about the project and the work.
The footballfanculturejournalist Felix Tamsut has written in summer 2020 an article about our project in the englishspeaking fanzine "Halb Vier" (Issue3). The piece "Grief in Football" can be downloaded as a pdf file. Thank you so much to "Halb Vier" who made this possible.
Please support us
We are looking for football fans who can send us with their photos of mourning choreographies, empty seats, minutes of silence, graffiti about mourning and football. We are happy about photos from everywhere.
Follow us on twitter under @Trauer_Fussball and send us tweets about mourning and football.
We asearch the social media (facebook, twitter, instagram) for clues about mourning and football. Articles, fanzines, press clippings about football and mourning.
We are also welcome football fans who give us an interview about how football has supported them in their grief or what else they have to say about mourning and football.
We are happy about all feedback, inquiries, hints. If you have any further ideas to support the project, please feel free to contact us at any time.
We are also very interested in networking. Simply get in touch with us.
You can send an email to: cmayer@trauerundfussball.de
We are looking forward to hearing from you!
We say THANK YOU for your support! Honour and glory in football heaven are guaranteed!